TRADE & MEDIA
For trade and media inquiries, including image needs, please contact Vice President of Communications Michelle Kaufmann.
Winery Overview
At Stoller, our roots run deep. The family established the property in 1943 and the vineyard 50 years later. Pioneering Oregonian and founder Bill Stoller purchased his family's second-generation farm in 1993, guided by the vision of cultivating an enduring legacy for his family's land. Over the last 30 years, he has patiently transformed the 400-acre property into the largest contiguous vineyard in Oregon's Dundee Hills.
We control every step of the winegrowing and winemaking process, from pruning to bottling and everything in between. Melissa Burr, VP of Winemaking, works in concert with Jason Tosch, VP of Vineyard Operations, to oversee the site's continued refinement. Together, they steward Bill Stoller's legacy. The result is award-winning wines that are balanced, complex, and consistently exceptional.
Much has changed from the original Stoller family farm, but two things remain constant: our pioneering spirit and commitment to our farm. We continuously seek new ways to refine and protect our legacy, so that it can thrive for generations to come. Our winery was the first in the world to receive LEED Gold certification, attesting that our winery is sustainably built and environmentally friendly.
Featuring three guest homes, as well as the state-of-the-art tasting room with panoramic views of the vineyard, and the immersive Experience Center, we are honored to be ranked as a USA Today 10Best Tasting Rooms in their Reader's Choice poll in 2016, 2018, 2019, 2020, 2021, and 2022, and Oregon's Most Admired Winery by the Portland Business Journal for seven consecutive years.
Estate Vineyard
Stoller Family Estate is the largest contiguous vineyard in Oregon's Dundee Hills, spanning 400 acres, with 225 under vine.
The vineyard is divided into 108 meticulously-farmed sections at elevations ranging from 210 to 650 feet. The property features eight planted varieties: Pinot Noir (70%), Chardonnay (25%), as well as Aligoté, Gamay Noir, Pinot Blanc, Pinot Meunier, Riesling,  Syrah, Tempranillo, and Viognier. Our Pinot Noir clonal selection include Pommard, Wädenswil, 777, 667, 113, 114, 115, 828, 943, Calera, Mt. Eden, Swan, Martiti, and Jackson. Our Chardonnay, the largest estate planting in Oregon, features Dijon clones 76, 95, 96, and 548.
Our site features a warmer microclimate, due to the surrounding mountains, that allows for a more consistent ripening. To continue to elevate the quality of the fruit, we combine sustainable farming practices, innovative techniques, and scientific research. Stoller is LIVE (Low Input Viticulture and Enology), Salmon Safe, and B Corp certified. Our innovative techniques include solar-powered weather stations providing up-to-the-minute data during harvest, a recycling tunnel sprayer to minimize drift, and an irrigation system fed by a rain pond and wells on the property.
Winery Design & Visitor Information
Our winery is the first in the world to achieve LEED Gold certification. As part of achieving LEED certification, we blend traditional gravity flow winemaking with energy-efficient systems, and waste-water reclamation to preserve the quality of the fruit and reduce our environmental footprint.
Our tasting room combines environmental sustainability and high-efficiency design. Notable design features include a green roof, skylights, salvaged timber, and EV charging stations for electric vehicles.
Our 8,000 sq. ft. state-of-the-art Experience Center features emerging technologies that connect guests directly with new forms of wine education and provides a unique look at our estate. Using augmented reality art, Oculus virtual reality, interactive tasting tables, and high-quality curated videos projected on an immersive display, we hope to take every guest on a new adventure in wine.
Legacy
These wines meticulously crafted from some of our oldest plantings, with each wine named after a member of the Stoller family.​
LaRue's ($65): Named after our matriarch, this wine is comprised of 70% Pinot Noir and 30% Chardonnay from higher elevation section on our estate.
Elsie's ($65): Named after Bill Stoller's aunt, this wine is comprised of Dijon clones planted in 1995.
Helen's ($75): Named after Bill Stoller's aunt, this wine is made primarily from the Wädenswil clone of Pinot Noir, planted in 1997.
Nancy's ($75): Named after Bill Stoller's sister, this wine is made primarily from the Pommard clone of Pinot Noir, planted in 1999.
Ruth's ($100): Named after Bill Stoller's mother, this wine is sourced from our oldest section of Pommard in the vineyard, planted in 1995.
William H Stoller ($125): Paying tribute to our founder, this wine is an exclusive assemblage of our oldest Pinot Noir sections. We only craft four barrels of this complex and nuanced wine.
Reserve
Flagship wines blended from barrel selections of some of our older plantings.
Chardonnay ($40): Our Reserve Chardonnay is a blend of our oldest Dijon vines on the property, which were planted in 1995.
Pinot Noir ($50): Our Reserve Pinot Noir is a blend of some of our oldest Pinot Noir clones, planted between 1995 and 2001.
Estate
Over the last 27 years, our estate vineyard's 108 meticulously farmed sections have become more expressive, each showing something unique and distinct. Our winemakers Melissa Burr and Kate Payne Brown decided to make something fun and different from our maturing vines.
Brut Sparkling ($40)
Chardonnay ($40)
Pinot Noir ($40)
Dundee Hills
Designed to be approachable and affordable, these wines represent a mosaic of our estate.
Chardonnay ($25): Our Dundee Hills Chardonnay is fermented in Stainless Steel tanks, a technique that keeps the wine lively and bright. It is very citrus and mineral driven and very refreshing.
Rosé ($28): Pinot Noir Rosé has been a cornerstone of our production for more than a decade. Comprised of various clones of Pinot Noir, we intentionally craft our Rosé to be balanced and bright by whole cluster pressing and fermenting it in stainless steel.
Pinot Noir ($35): A mosaic of Pinot Noir from our estate, this wines a classic representation of the Dundee Hills, showcasing our site's bright, pure fruit.
Single Acre
Limited production wines from our micro-plantings of single acres on our estate.
Aligoté ($30)
Pinot Blanc ($30)
Riesling ($30)
Syrah ($45)
Tempranillo ($45)
Bill Stoller | Owner & Founder
Bill was born here on the property and raised on the family farm outside of Dayton, Oregon. He received a degree in business and economics from Pacific University, as well as an MBA from Portland State University. In 1983, Bill co-founded Express Employment Professionals, currently the largest privately-held staffing company in the world, with over 600 offices in four countries. Additionally, in 2001, he founded Xenium, a human resources outsource company. This business success has enabled Bill to pursue his passion of wine and to contribute to his community. True to his Oregon upbringing, Bill sees himself as a custodian of the land he loves, and cares deeply about sustainability and environmental protection.
Gary Mortensen | President
As president of the Stoller Wine Group, Gary brings 20 years of senior leadership in the Oregon wine industry. In six short years with the company, he has grown production from 20,000 cases to more than 160,000 across four brands.
Gary loves disruption, innovation and pushing boundaries regardless of the industry or application: from taking a fresh look at a mature industry (wine) to being involved in bleeding-edge technology that changes how we do things. Through these lenses, Gary is the driving force realizing Bill Stoller's vision of refining and protecting our legacy, so that it can thrive for generations to come.
Melissa Burr | VP of Winemaking
Melissa Burr, an Oregon native, graduated from Portland State University with a Bachelor of Science degree with the intent to practice naturopathic medicine before discovering her true passion in wine. She studied winemaking and fermentation science at Oregon State University and interned during harvest for several local wineries before becoming production winemaker for Cooper Mountain. In 2003, Melissa joined Stoller Family Estate as the winery's first dedicated winemaker.
Celebrating her 20th harvest with Stoller Wine Group, Melissa Burr continues to work in concert with the vineyard team to oversee the site's continued refinement and lead the winemaking production team across the Stoller Wine Group portfolio. She has helped grow production from 1,000 cases to 190,000 while acting as a steward of Stoller's legacy.
In 2013, Melissa partnered with Bill Stoller to launch History, a brand dedicated to paying homage to historic vineyards in the Pacific Northwest. The collection will continue to evolve as she tells more stories about these esteemed vineyards and the people who started them.
Melissa enjoys the creative and natural process of winemaking and the dynamic nature of the Oregon wine industry. The constant evolution of every new vintage pushes her to learn more about her craft.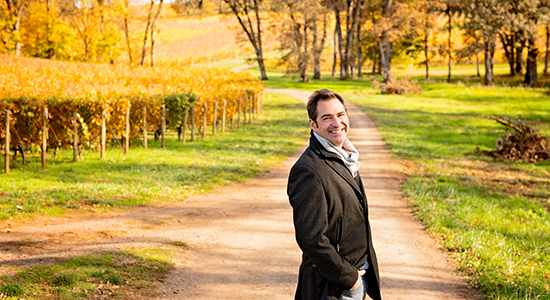 Jason Tosch | VP of Vineyard Operations
A native of Oregon's Tualatin Valley, Jason Tosch has made his career farming premium wine grapes. An Oregon State University graduate with a degree in horticulture, focusing on small fruits and berries, Jason has served in leadership roles for the Oregon wine industry's wine research and sustainability-focused communities.
In his role, Jason oversees 585-acres across four estate properties, while cultivating relationships with high-end growers throughout the state. With his vineyard team, Jason grows high quality wines that reflect the vintage. His love of Oregon drives his holistic approach to viticulture and the connectivity to the surrounding forests and biodiversity-rich areas. The growth of the Stoller Wine Group suits Jason's skillset. His shared core vision will allow the Stoller Wine Group to carefully scale while increasing wine quality and farm-land stewardship.
Patrick Hiley | Vice President of National Sales
Patrick Hiley has 25 years of experience in the wine industry. He caught the wine bug after many years working in fine dining restaurants in New Orleans, served as a buyer at a high-end grocery store, worked for a large wine supplier covering the Southeast, and eventually as a distributor holding multiple senior positions. When the opportunity to join a family of quality-driven wineries presented itself, Pat jumped at the chance to work for the Stoller Wine Group. He lives in Atlanta with his wife, Gretchen, and their three teenage children. Pat enjoys traveling with Gretchen, listening to vinyl, and spending time with friends and family. He holds Certified Wine Specialist accreditation from the Society of Wine Educators as well as Certified Sommelier credentials from the Guild of Master Sommeliers.